Networking Meeting (Thursday, Feb. 17, 2011)
Posted by admin
on 2011/2/4 14:50:00
(
1253 reads
)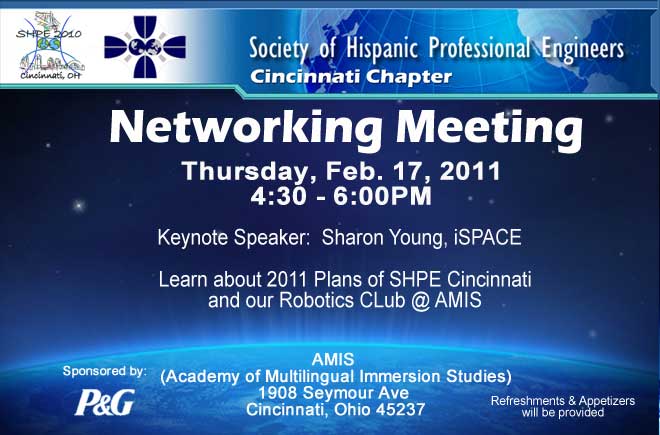 The SHPE Cincinnati Professional Chapter would like to invite you to our first in 2011 All Members Meeting on Thursday, Feb. 17th, 4:30 - 6 PM at AMIS (Academy of Multilingual Immersion Studies), located at 1908 Seymour Ave Cincinnati, Ohio 45237.
The preliminary agenda:
- Welcome & intro of new members and EBOD
- iSPACE Program Introduction by Educational Outreach Director, Sharon Young
- Chapter initiatives review and volunteers needs by each leader
- Targeted schools and leaders (AMIS, Lakota, Princeton)
- Introduction to Robotics Club @ AMIS initiative

- Preliminary 2011 Event Schedule (Local, national, etc.)

We are very excited about the meeting and we hope, you'll join us.
Refreshments and Appetizers will be provided
Please RSVP your participation today: click here


The comments are owned by the author. We aren't responsible for their content.